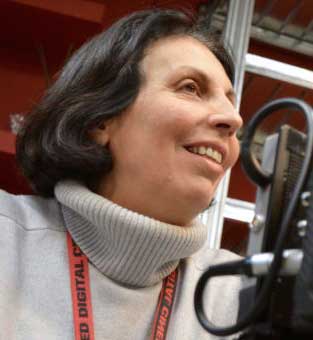 Director and Producer
Co founder in 1994, in A Coruña, of Xamalú Filmes. Since then, she alternates her work as a director with those of producer of the films that Xavier Bermúdez.
As film director she did for other film production companies: "Portrait of woman with man in background" (1996), she won the Opera Prima Prize in the Peñíscola Film Festival and the actress, Paulina Gálvez, was nominated in the Best Actress Categorie in Goya Awards."The lost steps" (2001), obtain in the SEMINCI (Valladolid) a Special Mention of the International Press Jury, the Cinespaña Special Prize (Toulouse), the Silver Targa and the Public Prize in Turin International Film Festival.
For  Xamalú Filmes she directed: "A tale for Olivia" (2007) nominated for Best Film and Best Film Editing in the 2009 Edition of Mestre Mateo's Prizes;"a settling of account" (2005-2009) was presented in the, Málaga Film Festival – Spaish Cinema, in ZonaZine section and in the Cinespaña Film Festival (Toulouse). "Breadcrums" (2016) was presented at the Montréal Film Festival and Selected to represent Uruguay at the Oscars.
She also shoot for Xamalú Filmes the documentary , "Broken memories" (2009) and the tv documentary,"Virtual lives" (2010).